JEWELLERY DESIGNS
 
JEWELLERY DESIGNS
In our workshop we produce a range of Jewellery Designs featuring Ancient Sacred Symbolism, Early Celtic Art and the very ancient and most mysterious Megalithic Art. 

The Jewellery Designs are an expression of the Magic of Ireland's Ancient Megalithic and Celtic Art.
The workshop was founded in the mid 1990's with co-researcher/developer Joanne McMahon (co-author of 'The Sheela-na-gigs of Britain & Ireland') and  developed as an extension of my core activity as an Illustrator and Designer in conjunction with Joanne's knowledge of jewellery production.
From the outset the range of designs that were well received by shops and the public and has been developing and expanding the catalogue of designs 
My work as a jewellery designer/manufacturer has been highly acclaimed as accurate renditions of the original ancient artwork and the goddess related images such as the sheela-na-gig pendants are much sought after by those who appreciate my commitment to a realistic reproduction of the original artwork.
All Pendants and Earrings are individually hand-cast in a Silver Bronze/White Bronze and finished to a high standard. Finished designs are fitted with quality silver plated chains or quality sterling silver ear hooks and supplied in boxes with relevant and appropriate information.
CLICK ON CATALOGUES TO ENLARGE
PENDANTS 
CELTIC/EARLY ART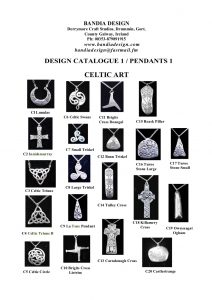 MEGALITHIC ART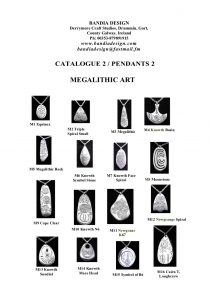 SHEELA-NA-GIGS / GODDESSES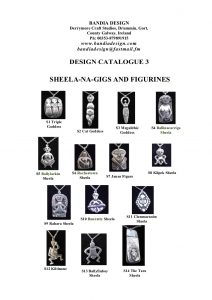 EARRINGS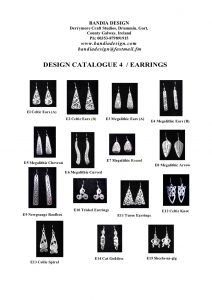 PENDANTS & EARRINGS ALL = € 20.oo
Sheela-Na-Gig Wall Plaques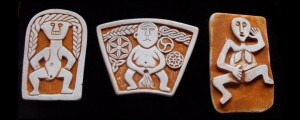 Cast in special weatherproof hard plaster, coloured and varnished
We currently supply 3 designs of popular Sheela-na-gigs faithfully rendered to be as close as possible to the originals. (from left of picture) Rahara, Ballinderry and Kiltinane
€25.00 Including P&P
TO ORDER
AT PRESENT STATE OF DEVELOPMENT I CANNOT OFFER A ONE-CLICK ORDERING OPTION
PLEASE EMAIL CODE NUMBERS TO ME OR DESCRIPTIONS OF ITEMS
I WILL THEN EMAIL TO CONFIRM THE ORDER AND SEND A PAYPAL MONEY REQUEST FOR THE ORDER